I just could not think of an original title today, so we'll go with the description of today's post: Wardrobe Wednesday. WW is now hosted by the lovely Miriam of
Create Hope Inspire
, why don't you click over and have a look?
We've had a backwards and forwards day today: Bible study this morning, lunch at McD's with Mum (a treat for the kids. Who am I kidding, for me too!), then trying to organise sending a kitchen sink to Christchurch. I'm not even kidding. Literally, a kitchen sink.
Today's outfit is a simple one: easy to wear pants, flowy top to cover the bulgy bits, swing cardi and some jewellery.
Through the window this morning, the day looked gorgeous and warm. Outside, it's definitely gorgeous, but the wind is FREEZING! I wished I'd worn more than a very thin swing cardi.
My top is from Jacqui E (on sale!) and it was one of my favourite, beautiful things. The photos don't really show it very well - it's a bright navy blue chiffon over white stretchy viscose. I say was... My fabulous man in a fit of wonderful-ness (he has these quite often, he really is very good. No truly, no sarcasm here!) threw it in the washing machine for me, not realising it was hand wash only. Consequently, the proportions of the two layers are now all out of whack and it's not as lovely as it used to be. A little gutted I was, but I didn't make too much fuss - don't want to put Wonderful Man off doing the washing, after all!
After I took and uploaded these photos, I realised the photo I took of my jewellery to showcase my favourite earrings is showcasing it BACKWARDS! Oops. I think you still get the general idea. They are long thin dark gold/brass coloured leaves. The fronts have leaf vein lines. Don't sound like much, but they go with everything! (And they make my hair look good... Always a bonus.)
Speaking of hair...
Lately I've been trying something new: Blowdrying. What?! I know, I NEVER blow dry my hair. Frizz central. Yikes. But, I have found a way to do it well.
I'm enjoying having clean, bouncing hair, styled from the beginning of my day, instead of wet or day-old hair depending on how I needed my hair to look that day or evening. Basically my new method involves flipping my head upside down, using the diffuser attachment and NOT shaking the hair-dryer, just placing it at different points all over until it's all dry. It's the shaking (like hairdressers do) that causes the frizz! Surprise!
Outfit breakdown
Pants: I don't know actually...
Top: Jacqui E
Swing cardi: Millers
Shoes: Hannahs (many, many, many moons ago)
Necklace: Lovisa
Earrings and ring: Postie
Check out the others at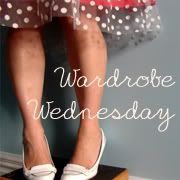 Happy Wednesday, y'all!