*Sorry about the different sizes of all the photos today. I just can't figure out enough HTML or photo editing to get it to sit right. Bear with.*
Brief Encounter is the name of my fabulous new dress. The amazing Nin of
Sailor Spy
(our previous
Wardrobe Wednesday
hostess) is a New Zealand fashion designer.
From her blog:
Her style is about lasting quality pieces, made locally with unique design elements and gorgeous fabrics.
[She]
design
s
pieces that look good whatever your lifestyle in which you feel beautiful, unique, classy and sexy.
This beautiful dress certainly fits
those criteria
. I am a busy mother of three pre-schoolers, certainly not either a stick figure or glamorous model, however, wearing it makes me feel feminine, lovely and classy while still being comfortable enough to chase a baby, change a nappy or read a story to a pile of kids.
Nin's clothes are everything she says they will be: beautiful, unique, classy and sexy. Go and have a look at her
shop
and follow her
blog
to stay up to date with her new looks.
Today, Mr 4 helped me with my photos. This is the first one he took...
Yes, upside down.
The rest were the right way up, but I ended up needing to resort to the self-timer again. We'll keep working on Elliot's photography skills...
My jewellery is facing the right way today! I'm wearing my go-to earrings - the leaves, and one of my favourite (though not particularly baby-friendly) necklaces - the moving, sparkling fish.
Missy Moon (a.k.a. Rosie, 2-and-three-quarters) wanted to show off her ballerina buns today, so she joined me for a few pictures. I think she's pretty cute!
My outfit breakdown
Dress: Brief Encounter - Sailor Spy
Swing cardi: Millers
Singlet: Jay Jays
Leggings and earrings: Postie
Shoes: Farmers
Necklace: Lovisa
Rosie's outfit breakdown
Woollen poncho: Alpaca wool, from Ecuador (via Auntie Heidi, via Uncle Marco visiting my own husband (though he wasn't even my boyfriend at the time!))
Top and skirt: hand-me-downs! (Fabulous things, hand-me-downs.
Tights: Farmers
Shoes: borrowed
And that's my picture-heavy WW post for the week! Wardrobe Wednesday is a lot of fun - if you've got a blog and a camera, I encourage to to join in. You don't have to have an amazing wardrobe full of amazing clothes. Apart from this dress, nearly my entire supply of clothing is from stores that are el cheapo because out of necessity, money is the biggest factor for me when choosing new clothes. So all you need to have is an outfit that you wouldn't mind being seen in public in (I don't post my Wednesday afternoon outfits!), and you can join in! We'd love to see you!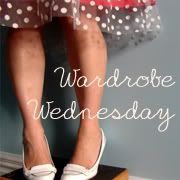 PS: Stay tuned for my new Adoption Journey tab up top too. Hopefully I'll finish that later today or tomorrow. I'm so excited for tabs!